Other Industrial Braking System Components and Accessories
Hindon's goal is to provide the best industrial braking system for your application. In addition to industrial brakes, Hindon offers all the braking system components and accessories you need to solve your application challenge.
Let our dedicated technical team help you specify the best braking system components for your application.
Industrial Brake Drums / Wheels
We supply a wide range of high quality industrial brake drums (also called brake wheels) for use in our industrial drum braking systems and as a standalone replacement part.
We inventory rough stock bored brake wheels in common inch and metric sizes, which means we can provide a drop-in replacement for most crane brakes, including steel mill crane brakes built to AIST and DIN specifications.
In addition to supplying rough stock bored (or pilot bored) brake drums that can be finished on-site, we can also custom machine a brake wheel according to specific dimensions and requirements.
We offer brake drums with both edge and center located webs, as well as angled web offset and straight web offset brake wheels.
Our brake wheels are manufactured from high quality materials including ductile iron, steel, and stainless steel.
Brake Disc / Hub Assemblies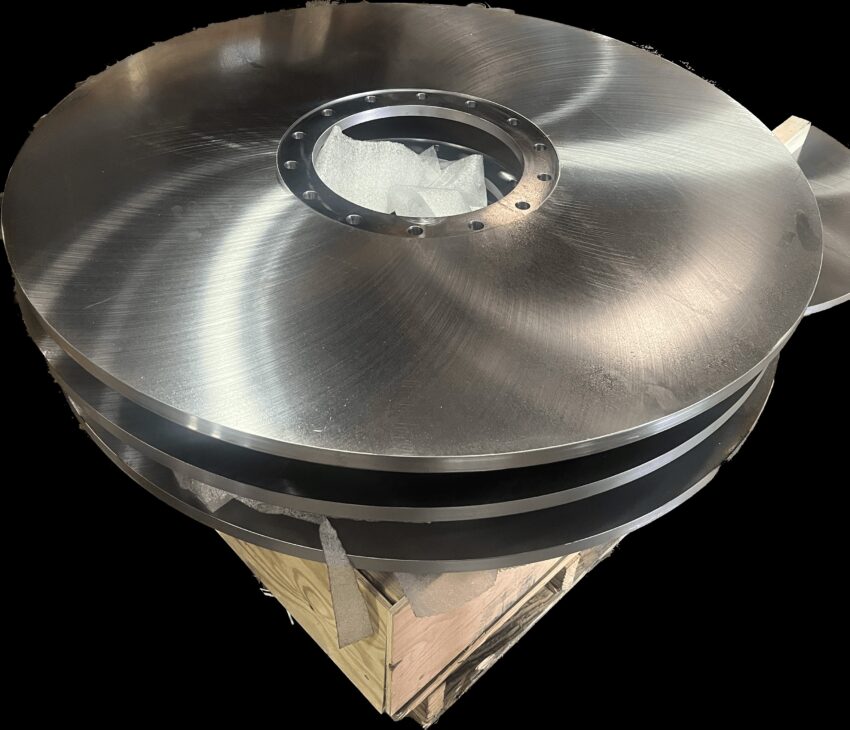 We provide brake discs and mounting hub assemblies to meet the exact specifications of our customers' applications. Our disc/hub assemblies can be provided rough stock bored (or pilot bored) to be finished on site, as well as fully machined to specific dimensions and requirements.
Our brake discs are custom designed and manufactured, which allows us to provide the ideal brake disc diameter and thickness for a given application. This approach is particularly beneficial in applications with space constraints, as it allows us to maximize the torque capacity of a braking system within a specific dimensional envelope. We also help our customers size the disc/hub assembly appropriately relative to the torque requirements and shaft diameter of the application.
Flexible Couplings with Brake Drum or Disc
Flexible element pin and jaw type couplings, as well as gear couplings, can be used to connect a motor output shaft to a gearbox input shaft with a brake drum or disc sitting between the two coupling halves. These flexible element couplings with brake disc or drum are a low maintenance solution, as in most cases, the elastic buffers can be easily replaced without removing the entire assembly or disturbing the motor / gearbox alignment.
Our flexible element couplings are available in a wide range of sizes and torque capacities. As always, Hindon's technical team can help specify the appropriate coupling size based on the existing motor and gearbox shaft diameters as well as the application torque requirements.
Hydraulic Power Units
Our Hydraulic Power Units (HPUs) are available in a range of pressure ratings, flow capacities, and with various optional features including oil tank heating, oil monitoring, anti-condensation heating, oilpan, and aluminum or stainless steel enclosures.
Consistent with our overall philosophy, we support our customers by specifying and supplying the ideal HPU for use with our hydraulically released industrial brakes based on the application requirements.
Mounting Stands
We offer custom designed mounting stands as part of our industrial braking systems.
Our mounting stands are designed to meet the requirements of our customers applications, meaning they are designed to accommodate any dimensional challenges present in an application and are fully analyzed with FEA to ensure they are sufficiently rigid to keep deflection within acceptable parameters during the braking process.
Covers & Enclosures
We design and supply a wide variety of industrial brake enclosures and covers with varying levels of customization. Depending on project needs, we can provide enclosures that meet the requirements of a detailed specification, as well as more economical standard covers.
Both standard and custom enclosures/covers are available in materials including aluminum, powder-coated steel, and stainless steel (304 and 316).
Commitment to service and support
Hindon is dedicated to providing comprehensive support for our products and the people who depend on them. From initial consultation to inspection, maintenance, and repair services, our goal is to provide the right equipment for your application and to keep your product in top shape for its full lifecycle. If you're not sure which product is right for your application, call or chat with one of our sales engineers.